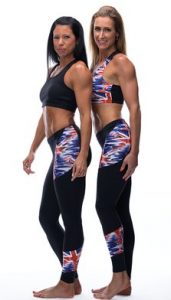 As a fitness wear manufacturer based in Basingstoke, Hampshire; PINKfudge are proud advocates of practising a happy healthy lifestyle. With summer just around the corner, what better way to share our healthy lifestyle knowledge with you than through a language we all speak very well… FOOD!
You may find that during the summer months your love for doing nothing more than soaking up the sunshine means that, your diet suffers. Rich hearty meals prepared in a scorching kitchen no longer seem quite so appealing and the vast array of fizzy drinks and ice-creams available are sometimes just too hard to resist.
Our answer… tailored summer recipes!
Summer recipes are the best way to inject a little 'healthiness' into your diet because they use fresh, affordable and readily available ingredients. While PINKfudge are strong believers in 'everything in moderation' we also believe that the healthier you eat, the more energy you and your body have! So, sit back, relax and enjoy our top 3 summer recipes, guaranteed to help you eat well this summer.
Recipe 1- Salmon with a Maple Glaze
Look and feel like a gourmet chef this summer with this easy to execute recipe! This simple maple glaze with lemon juice and ginger adds a touch of sweetness to the salmon without making the whole dish overly sweet. If you're not a fan of salmon, simply substitute for poultry or vegetables if you're vegetarian.
Recipe 2 – Burgers with Roasted Garlic and Rosemary
You knew they had to be in here somewhere! That's right, no summer barbeque is complete without grilled burgers! But, try adding Roasted garlic and fresh rosemary to give your burgers an extra kick of flavour. And, if you're looking to give your burgers that extra health twist, try adding grated courgette, it helps keep the beef moist and is a clever way to sneak extra veggies into your diet and guess what? You'd never even know they were there! Bargain!
Recipe 3 – Chocolate and peanut butter ice cream
We know what you're thinking… 'That's not healthy'. But, that's where you're wrong! This 10-minute no churn chocolate and peanut butter ice cream is the creamy, rich ice cream we've all been waiting for! What's its secret I hear you ask… FROZEN BANANAS! When frozen bananas are pureed in a food processor they become smooth and creamy, just like soft serve ice cream! Magic, right?!
So, if you're wanting to make your summer barbeque the talk of the neighbourhood, give one of our healthy summer recipes a go! And, if you don't have a barbeque, there's nothing wrong with a good old-fashioned oven! 
Let us know how you get on and send your creations to us at Sarah@pinkfudge.com! And don't forget, if you're looking for the perfect summer fitness wear, give us a call on 01256 346255 to discuss how we can meet your requirements this season!